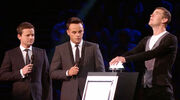 Derrick Adams played Erick Stayer in the 2012 THEULTIMATESORAFANINC. movie, The Struggle. Derrick had the main role. Adams was born in Baron, Massachussets. Derrick first time as an actor was in the Yerzan movie Fregieyqwertz 2. Since then, Adams has become very popular with 91,00000 fans on his blog. Derrick's cousin, Jonathon Adams is also an actor. The two worked together in the 2001 movie, Yark. In his free time, Adams likes to paint, watch movies, voice act, play card games, collect action figures, read magizines, drive sportscars, act, and feed his bulldog, Mary.
Ad blocker interference detected!
Wikia is a free-to-use site that makes money from advertising. We have a modified experience for viewers using ad blockers

Wikia is not accessible if you've made further modifications. Remove the custom ad blocker rule(s) and the page will load as expected.